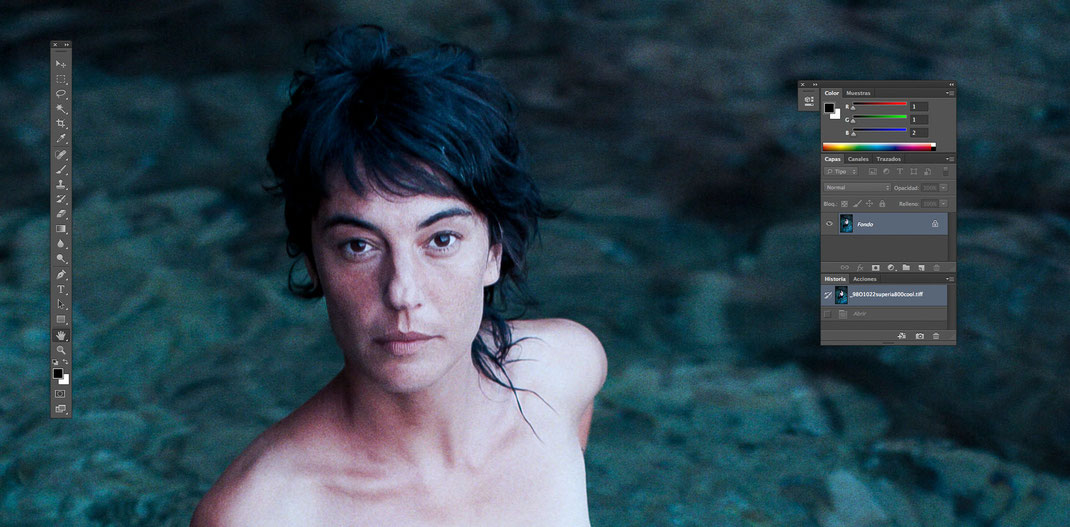 Hello!
In 2014 I started a photographic project which finally is titled INDOMITABLE. For this project I photographed women in natural landscapes on the island of Ibiza, where I live since almost 6 years ago.
I just finished editing the images. As in other occasions I tried to convert my images into black and white and the portraits worked really well!. But I am unable of removing the color from my gaze.
I love black and white photography but I am afraid that I will have to conform myself enjoying others photographers's black and white work... Well, I do have my theory, to make it possible, I should have to work directly with black and white film, that is the way I learned photography.  I will do it in some future project.
Coming back to the core of this entry... INDOMITABLE reflects on the act of recognizing and validating the personal strength, which lies in our wild spirit, untamed. The indomitable one has passed its brightness and darkness. The indomitable is not looked, she looks. The indomite professes an act of deep love for his own nature. The indomitable woman walks on love and sensitivity for herself. The indomitable is connected with the forces of nature. The indomitable has a keen instinct. The indomitable knows its peace and violence.
This series is avalaible in the next sizes, limited edition:
150x100cms: 5 copies + 1 A.P.
90x60cms: 10 copies + 1 A.P.
20x15cms: 20 copies + 1 A.P.
More news soon.
Hola!
En 2014 empecé un proyecto fotográfico que finalmente lleva por título INDÓMITA. En el fotografié a mujeres en parajes  naturales en la isla de Ibiza, donde resido desde hace casi 6 años.
Justo acabo de terminar la edición de las fotografías. Cómo alguna otra vez, he intentado convertir las imágenes a blanco y negro, y los retratos funcionaban muy bien! Pero soy incapaz de quitar el color a mi mirada.
Me encanta la fotografía en blanco y negro pero me temo que tendré que conformarme con disfrutar la que hacen otr@s. O, bueno, realmente yo tengo mi teoría, para hacer fotografía en blanco y negro tendría que trabajar con carrete en blanco y negro, que fue como aprendí. Quizá lo haga para algún proyecto próximo.
Y volviendo al eje de esta entrada... INDÓMITA reflexiona sobre el acto de reconocer y validar la fuerza personal, donde yace sobre nuestro espíritu salvaje, sin domesticar. La indómita ha transitado su luminosidad y su oscuridad. La indómita no es mirada, ella mira. La indómita profesa un acto de amor profundo hacia su propia naturaleza. La mujer indómita camina sobre el amor y la sensibilidad para con ella misma. La indómita está conectada con las fuerzas de la naturaleza. La indómita tiene un instinto vivo. La indómita conoce su paz y su violencia.
Esta serie está a la venta en 3 tamaños, edición limitada:
150x100cms: 3 copias + 1 P.A.
90x60cms: 5 copias + 1 P.A.
40x35: 10 copias + 1 P.A.
20x15cms: 20 copias + 1 P.A.
Pronto más noticias.